The Starman Junior is a member of the Starman race, A race of beings that serve under Giygas. As its name implies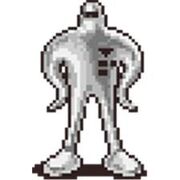 it is a younger member, and also one of the weaker ones. Its encountered as a early unwinnable boss fight, Before it leaves due to a call from
Pook
.

Stats: HP:323
Attack:32
Defense:55
Guts:23
PSI:
PSI Fire Alpha
PSI Freeze Alpha
PSI Magnet Alpha
PSI Thunder Alpha
Ad blocker interference detected!
Wikia is a free-to-use site that makes money from advertising. We have a modified experience for viewers using ad blockers

Wikia is not accessible if you've made further modifications. Remove the custom ad blocker rule(s) and the page will load as expected.